Pinokio Tippmann X7 / A-5 (A5P) Hopper
Bad Karma Rating:

Reviewer: Nate "Swagger" Durbano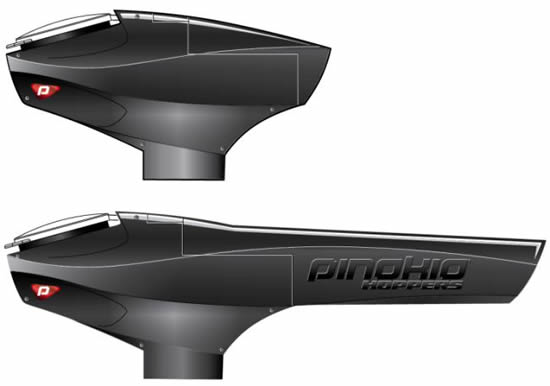 In-depth Review:

I had the absolute privilege and honor of running one of two prototype Pinokio X7 / A-5 hoppers at Living Legends III (LL3) at the CPX field in Joliet, Illinois. I want to thank Jen and Evan for trusting me enough to run their prototype X7 / A-5 Pinokio hopper on my X7 Phenom all day Saturday and Sunday during LL3. Although it took some coaxing to get them to lend it to me, I was glad that they did… I knew the risk they were running allowing someone to walk off and field test one of their prototype hoppers, but their confidence in their product allowed them to let me put it through the test at one of the largest and greatest events this year.

As a member of the Bad Karma Paintball Team, we have a goal to always play as hard and intense as possible while conducting ourselves as gentlemen of the sport... And my level of play was 1000% faster and harder at LL3 than it has been in a long time—meaning I put that hopper thru HELL. It went with me on over 15 missions and through almost four cases of paint—holding up to the promise that Jen and Evan made me, that I would not be disappointed. I was definitely NOT disappointed.

The design of the X7 / A-5 Pinokio hopper fixed a lot of the problems that I have with the stock hopper. The Pinokio is not a brick sitting on top of the cyclone that cuts off most of your line of sight down the right side of the top rail system and top of the cyclone. It has a scoop on both sides of the lower portion of the hopper where it inserts into the cyclone. These scoops allow you to see down the rail system and provide you with a much better line of sight around the hopper (I think all Tippmann owners would agree that the cyclone/hopper system cuts out a lot of line of sight on the right side of the gun). Pinokio also made it very simple to remove the nose to switch them out or clean the hopper. There are no tools required to remove the nose, and it is easy enough to do one handed.

I was concerned that having a hopper sticking out as long as the 400 round nose does could throw off the balance on the gun, or weigh too much with 400 rounds in there. I did not notice much of a weight difference with the 400 rounds, and I am not a slow mover. I was running and crawling and diving all over the place. The balance with the Pinokio vs. stock hopper seemed identical. I found no issues with balance on the X7 Phenom and was pleased that it didn't feel like I had to compensate for a heavier front load on the gun. I do run tank-on-gun, so I have a lot of weight on the back of my gun. If you run with a remote system (I recommend you look at the Proconnect3 system by the way) and no butt stock for support, you might find there is a balance difference compared to the stock hopper.
During LL3, the Pinokio hopper system for my X7 Phenom never let me down, I was able to empty all 400 rounds without any issues related to balls being left down at the end of the nose. The cyclone feed balls consistently through many moments of 300+ balls being shot at full auto to keep a lot of heads down in front of me. Having the 400 round capacity provided multiple opportunities for field advancement and kills while others had to stop and re-load their hoppers. I was able to keep them down and advance to their position for some easy kills.
Pros:
Higher round capacity with 400 or 250 round nose (considerably more than the stock 200 round hopper)
Side sight scoops for increased line of sight and vision around the Cyclone Feed System
Light weight and very durable
Easy disconnect for nose change out and cleaning
Large opening for putting paint into the hopper
Good balance on the gun
Cons:
Screws hold the shell together, would be nice to have a completely tool-less system.
Spring loaded lids are a pain to put back in when you remove it for cleaning, would be nice to have magnetized lid (something similar to Prophecy's magnetic lid system, which prevents your lid from being popped open as easy during play).
I had to give it back!!!
Summary:
I quote from Pinokio: "Lighter, faster, more efficient and higher capacity than anything else available, the Pinokio hopper holds 250 rounds with the small nose and 400 rounds with the long nose. While your opponent is still reloading, you're still shooting! Our concept is simple: carry more, shoot more, reload less and WIN MORE! You gotta have balls to rock a Pinokio, pick one up today and experience the power!"
It was a sad moment when I had to give back the Pinokio Hopper, I loved the difference the Pinokio hopper made in my game. I have ordered my Pinokio hoppers and I would recommend that you do the same! Visit www.pinokiohoppers.com.
I make the same promise to you that Jen and Evan made to me: YOU WILL NOT BE DISAPPOINTED! And tell them Swagger from Bad Karma sent you!!