Psiworks Pro-Connect III
Bad Karma Rating:

Reviewer: Jared "Bad Karma Six" Bronson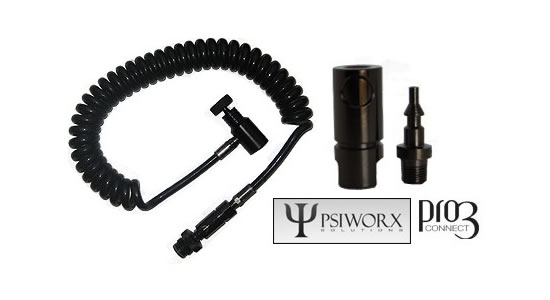 In-depth Review:

I have now been running the Pro-Connect III for several events this season. These events range from SPPL in Mesquite, Nevada to Living Legends III in Chicago, Illinois.
This is by far the best remote line system I have ever used. Gone are the days of worrying about my remote going out on me. Since returning to paintball in 2007, I have gone through about four slide check remote systems. No matter how much you pay for a better brand, they all seem to have the same problems—the slide check ends up failing. Some go out after a few uses and some make it a year or two, but the outcome is inevitable it seems.

With the Pro-Connect III there is no slide check to fail. Just push it onto the ASA adapter and then just push a button to disconnect it.
Be aware that because the Pro-Connect III is such a great product, some bad people came across one of the prototypes and started creating knockoffs. Since it was based on one of the prototypes, there are problems with them. So if it doesn't have the Psiworks logo, it's not a Pro-Connect III.
Pros:
Ease of use—Just push it onto the ASA adapter and push a button to disconnect.
Cost—Very reasonably priced and is competitive with standard remote lines.
Modular—You can purchase the Pro-Connect III Remote Fitting itself to upgrade an existing remote or the full Pro-Connect III Remote Line System.
Cons:
The only con that I can see is the fact that you have to unscrew the ASA adapter and use that to purge the line before you remove it from your tank. A very small con, but could be a pro in some cases. One, by doing this it protects the ASA adapter's long tip from damage. Two, keeps the ASA adapter from getting lost if you often remove it from your ASA.
Summary:
If you run a remote line system with your setup, you need to upgrade to a Pro-Connect III. In my opinion it is an upgrade, not a lateral change of equipment. You won't be disappointed. Also, make sure the Pro-Connect III you are purchasing is legit and not a knockoff.
Visit www.psiworx.com.
Where to Buy